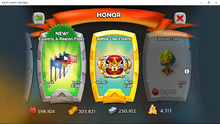 Battle Chest contain mystery rewards including resources, gold, and exclusive honor items. Every 24 hours you start with 9 locked chests, which may have higher or lower value depending on the day and what chest you choose. On the right of the chest are icons telling you which value chests are available that day. On different days there might be Silver Chests (level 2; at least 2), Gold Chests (level 3; at least 1) and Royal Chests (level 4). The rest are always the low value Wooden Chests (level 1). However although you known how many of each chest is in the group of nine, you just have to guess which one to unlock. After 24 hours it resets and you get a new batch of chests.
Battle Chests are unlocked using Keys, which can be won in battle. You can earn 2 keys each battle, one for destroying 20%, and another for destroying 60%. Each key unlocks one battle chest.
You can access Battle Chests by clicking the icon in the bottom left of your screen, above the attack and defense log.
Ad blocker interference detected!
Wikia is a free-to-use site that makes money from advertising. We have a modified experience for viewers using ad blockers

Wikia is not accessible if you've made further modifications. Remove the custom ad blocker rule(s) and the page will load as expected.